sarine
GeneralWebsite:
http://sixsevenoheight.weddingannouncer.com
Wedding Party:
Bethanie - best friend from high school (confirmed)
Taquea - best friend from high school (confirmed)
Carie - my older sister (confirmed)
Ryan - college friend (confirmed)
Karl - college friend (confirmed)
Allan - college friend (confirmed)
No flower girl.
No ring bearer, Ryan will hold the rings.
Invitations:
Link:
http://www.weddingpaperdivas.com/products/images/156_front_large.jpg
Template:
Places to stay/Transportation:
Guest House International
1609 McNeil Street
DuPont, WA 98327
Venue:
Wedding View
Reception
http://www.piercecountywa.org/pc/abtus/ourorg/ccp/rentals.htm
Catering:
http://www.warthogbbq.com/catering.htm#menu
They will be providing all food, drinks (except sparkling cider), plates, napkins, flatware, tablecloths and chairs for the wedding.
Dress and Accessories:
The dress:
http://davidsbridal.com/bridal_gowns_detail.jsp?stid=3336&prodgroup=159
Tiara (if I win):
http://cgi.ebay.com/ws/eBayISAPI.dll?ViewItem&item=230236070792
Shoes:
Hair pins: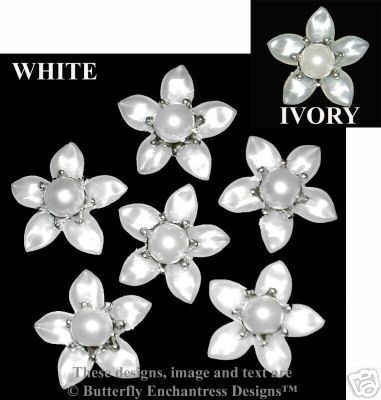 In white.
Photographer:
Jason and Dina Guppy
http://planetguppy.com
Favors:
Wedding Guests - in their names we will (and have) be donating to SAFE, Save a Forgotten Equine. Cards will be printed out of a recent seizure they're taking part in, on the other side will be the horses recovered with a message of what it's about.
The horse we donated to first (he was the most critical):
Rehearsal Dinner:
To be held at the Oakbrook Golf Club.
Sunday Brunch!:
Will be at the Super Buffet (Chinese) in Dupont, anyone is welcome but they have to pay for themselves.
Honeymoon:
Thinking Saturday we'll stay in Steilacoom with the family/friends in town, Sunday and Monday go to Seattle for a little mini holiday and stay somewhere downtown. Visit Pikes, the EMP and the needle of course, because I think he's only gone once (and we could actually have lunch there, which I've never done!). Go home Tuesday morning and have him back to work Wednesday.
Details of wedding and receptionColors:
The mint color
Bamboo (grass) green
Peach/Orange
Chocolate Brown
Cream
The main colors are white and greens, accents of peach and brown.
Flowers:
Janis is doing the flowers.
Only doing bouquet, boutonnière for James and a centerpiece for our table.
Inspiration!
The lilies, the green and the stephanotis..
http://www.callalilyshop.pacificcallas.com/allvarieties.htm
http://www.flowers.pacificcallas.com/creamcallalilyflowers.htm
http://www.flowers.pacificcallas.com/peachcallalilyflowers.htm
The colors I want - peach leaning towards the lighter side
Boutonnières - Green Pygmy Hydrangea
Cake
Will be done by Affairs, a local cafe/bakery.
http://www.affairs-chocolate.com
Main cake - 4 tiers, ivory perhaps with stephanotis cascading down?
Grooms cake - I want it to be really cute and fun and something totally about him.
Table settings:
Thicker white tablecloth, green ribbon around the table, pinned to the tablecloth.
China provided by venue.
Centerpieces will be a hurricane glass candle holder with light sand int he bottom, brown river rocks on top and then a brown candle in the middle surrounded by bamboo.
For the main table the following vase engraved with J&C, with calla lilies like those in my bouquet.
Seating:
Reserve first two rows of each side for immediate family, otherwise people can seat themselves. Usher(s?) to seat grand parents and others who want help - Duncan. Inside, head table for us, parents and grandparents. Second table reserved for immediate family, otherwise everyone sits wherever they want.
Music:
String Quartet at actual ceremony from University of Puget Sound.
Toasting Flutes
Cake Cutter
Engraved with Christina and James, June 7, 2008